About Me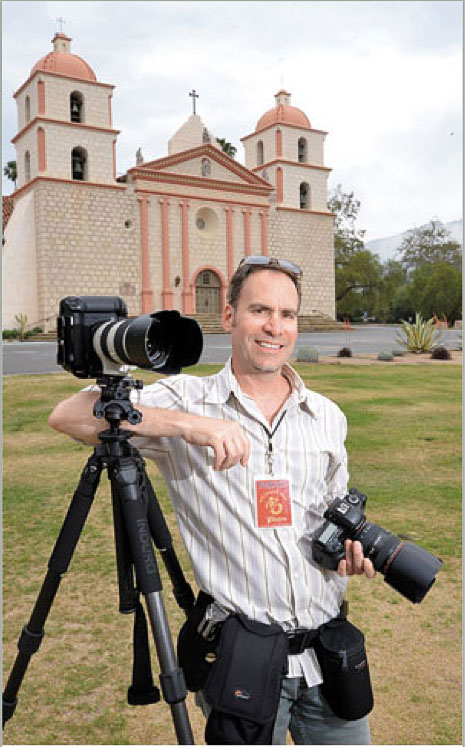 Above is a 2014 photo of A. Arthur Fisher as the official Old Spanish Days photographer, taken by the Santa Barbara News Press (credit: Steve Malone) for an article about Mr. Fisher's Fiesta coffee table book. This is an excellent photo for several reasons. First, the backdrop choice is relevant and interesting. Yet, there are no significant features of the mission which interfere with the main subject and vice versa. The main subject was lighted by one simple off-camera strobe. The mission's door is centered between Mr. Fisher and his camera. It's an overcast day, so there are no hard shadows other than the modest shadow created by the strobe, which adds some gentle depth to Mr. Fisher's face and opens up the shadow detail in his black camera gear. There's a beginning, middle, and end to the story. The exposure is excellent with flattering flesh tones.
Although initially educated in Mechanical Engineering and later Network Security, Mr. Fisher now delivers a rare mix of talents. He is the owner and founder of In Color. He has been professionally involved in graphic design, publishing, digital fine art media and photography for over thirty years. His numerous certifications in digital publishing and digital media have only aided his expertise in his award-winning photography. Mr. Fisher served for several years as Santa Barbara's official Old Spanish Days photographer and currently enjoys serving as the house photographer at both the Santa Barbara Bowl and historic Arlington Theatre.
Having photographed 700 events in Santa Barbara alone, Art has lived here for 35 years, enjoying all the creative energy that this beautiful place has to offer. See his photography as featured in publications all over the world. See his Amazon Author page here at https://www.amazon.com/author/artfisher
Clients & Publications (present & past):
805 Living Magazine
AAA Westways Magazine
Alamy Stock Photos
Aldo's Restaurant
American Airlines Magazine
Bay Area Motor Works
Billboard Magazine
Box Office Magazine
Brophy Bros Restaurant
CaliforniaExplorer.net
Carpinteria Sanitary District
CASA Magazine
Coastlines Magazine
Crane School (Show Programs)
D'Vine Cafe
Diani Companies
ERG California
GeneralRacing.com
Goldenvoice
Goleta Sanitary District
Goleta West Sanitary District
Greg Young Publishing
Granada Theatre (Show Programs)
Handel Architects
Hearing Life Magazine
Hollywood Reporter
Joe's Cafe
KCRW.com
KEYT.com and TV
Larsen Fine Homes
Lobero Theatre (Show Programs)
Media 27 Stock Photos
Medium.com
Metropolitan Theatres
MontereyHistoric.com
Moss Jacobs Presents
NederlanderConcerts.com
New Noise, Santa Barbara
Noozhawk.com
Old Spanish Days - Fiesta
OTOjOY
Pace Communications
Pollstar Magazine
Quantaa
Ragga Muffins Festival
Reader's Digest
Santa Barbara Bank & Trust
Santa Barbara Bowl Foundation
Santa Barbara Daily Sound
Santa Barbara Downtown Organization
Santa Barbara Frame Shop & Gallery
Santa Barbara High School
Santa Barbara Independent
Santa Barbara Magazine
Santa Barbara MTD Transit (Banners)
Santa Barbara Museum of Art Store
Santa Barbara News Press
Santa Barbara Seasons Magazine
Santa Barbara Summer Solstice Celebration
Santa Barbara Trolly (Banners)
Santa Barbara Visitor's Bureau
Santa Barbara Visitor's Guide
Silent Pictures Frame Shop & Gallery
Specialz
Sunset Magazine
The Arlington Theatre
The Ford Foundation
Touring & Tasting Magazine (Cover)
US Airways Magazine
UCSB Arts & Lectures
UCSB Office of Development
UCSB Recreational Sports
Ventura County Star
Venues Today Magazine
Wire Image News Service
...In internationally published books, event programs, brochures, posters, backstage passes, etc.

All images on this site are for sale and available for licensing. (Releases are available or can be obtained for many images.)