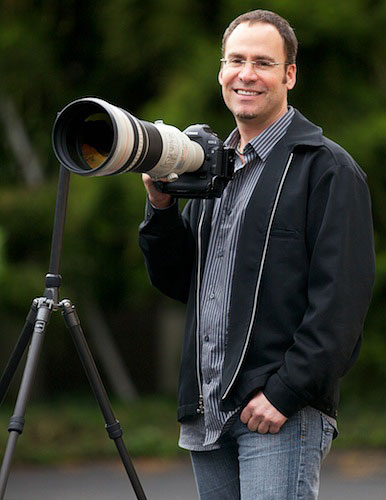 Photo: David PalermoAs the owner and founder of In Color, A Arthur Fisher has been professionally involved in graphic design, publishing, digital fine art printing and photography for nearly twenty-five years. He has a number of certifications in digital publishing and digital media. Mr. Fisher served for several years as Santa Barbara's official Old Spanish Days photographer and currently serves as the house photographer at the Santa Barbara Bowl and Arlington Theatre.
With a B.S. in Mechanical Engineering and a certification in Network Security, he makes a rare mix of his artistic experience, combining it with seasoned technical skills. Mr. Fisher has lived in Santa Barbara for 30 years, and he enjoys spending time interacting with the ocean and mountains, as well as all the creative energy that Santa Barbara has to offer.
Mr. Fisher's photography has been featured in publications, advertisements and fine art venues all over the world.
Clients / Publications:
805 Living Magazine
AAA Westways Magazine
Aldo's Restaurant
American Airlines In-flight Magazine
BAMotorWorks.com
Billboard Magazine
Box Office Magazine
BrophyBros.com
CASA Magazine
Coastlines Magazine
Crane School (Show Programs)
GeneralRacing.com
Greg Young Publishing
Granada Theatre (Show Programs)
Handel Architects
HollywoodReporter.com
JoesCafeSB.com
KCRW.com
KEYT.com and TV
Lobero Theatre (Show Programs)
Media 27 Stock
Metropolitan Theatres
MontereyHistoric.com
Moss Jacobs Presents
NederlanderConcerts.com
New Noise, Santa Barbara
Noozhawk.com
Old Spanish Days - Fiesta
Pace Communications
Pollstar Magazine
Ragga Muffins Festival
Reader's Digest
Santa Barbara Bank & Trust
Santa Barbara Bowl Foundation
Santa Barbara Daily Sound
Santa Barbara Downtown Organization
Santa Barbara Frame Shop & Gallery
Santa Barbara Independent
Santa Barbara Magazine
Santa Barbara MTD Transit Banners
Santa Barbara News Press
Santa Barbara Trolly (Banners)
Santa Barbara Visitor's Guide
Silent Pictures Frame Shop & Gallery
Sunset Magazine
TheArlingtonTheatre.com
The Ford Foundation
Touring & Tasting Magazine (cover)
Ventura County Star
Venues Today Magazine
Wire Image News Service
...In internationally published books, event programs, brochures, posters, backstage passes, etc.

All images on this site are for sale and available for licensing. (Releases are available or can be obtained for many images.)